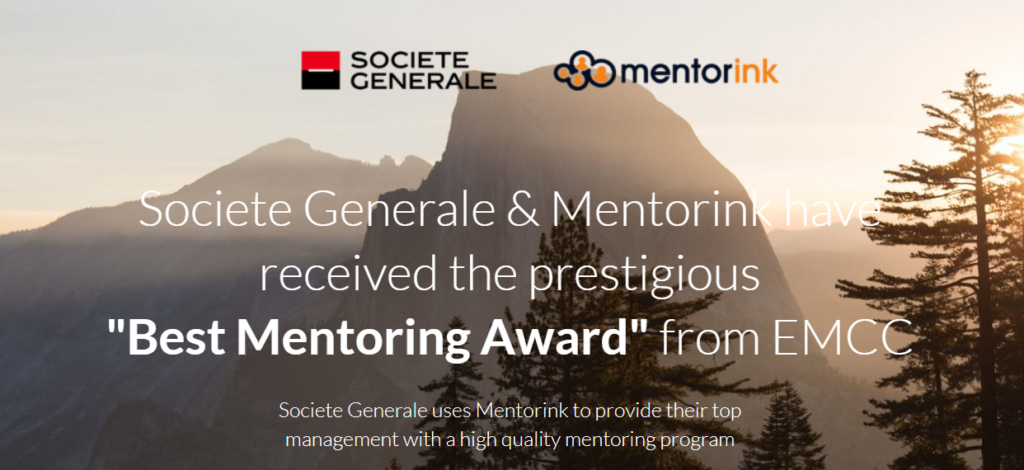 Best Mentoring Award: Recently EMCC has announced the 2020 Award.
As you may remember in 2019, we have won two awards in two categories with TEV and TOFAS.
It was a again a very proud moment for us that we have enabled our customer to win this prestigious award of European Mentoring and Coaching Council. Societe Generale Global Solution Centre has received the "Mentoring Award" with their Odyssey Mentoring Programme.
SocGen Global Solutions Center wanted to launch a mentoring program with its C-suite, with a two-fold goal:
Supporting the learning culture in an informal environment
Enabling a practical knowledge transfer amongst it top leaders.
Managing such a high profile mentoring program was a big challenge, as such C-suite people are often very busy and struggle to keep up with such ongoing commitments.
Mentorink has provided a holistic platform for designing a program management approach and engagement channels for mentors and mentees. The years of experience on optimizing individual mentoring pairs has paved the way for a succcessful user expeience so as fruitful outcome. You can check out our case study about Societe Generale and other Mentorink success stories.
Societe Generale is one of the leading investment banks and financial services companies globally. Societe Generale has been playing a vital role in the economy for 150 years. With more than 148,000 employees, based in 76 countries, they accompany 30 million clients throughout the world on a daily basis.